No matter where I go, what I do, or who I meet, I always seem to come across people that live by a certain quote. Whether it's from someone famous, someone close to them, or if it's just an old saying, there's always some line that's the hidden secret to a persons way of living.
Ever since I fell in love with the world of fashion at the tender age of seven, Gabrielle Bonheur Chanel has always been one of my biggest inspirations, and was the woman that once said a sentence that I now live by: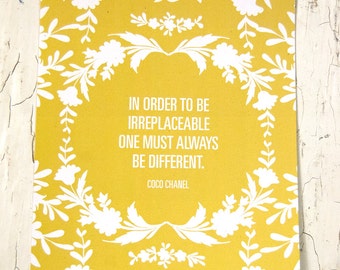 To this day I still use that quote on a daily basis because it encourages me to be a little bit braver with my style, a little bit bolder with my make-up, a little bit feistier with my ambition and gives me the motivation to follow my dreams and not let anyone else stop me. Thinking back, it's actually probably one of the reasons behind why I started this blog.
I started this blog during the summer of 2010 (originally as scrapbookedstyle on blogspot) and have never been able to let myself give it up. Of course I've went through times where I wasn't able to blog as much or unable to come up with post ideas, but at the moment I can't resist blogging on a weekly basis. It may not be a well-known, famous blog, but to me it's my pride and joy. I always get such a rush of happiness when people mention my blog, comment on a post, or even simply just hit the like/follow button, because I enjoy writing on it a crazy amount.
If  I was to summarize Red Threads Style it would essentially be a blog full of trend updates, style influence's and an insight into my personal taste. My posts vary from discussions about upcoming trends, accessories that I currently have an addiction to, celebrities/bloggers that I aspire to dress similar to, or simply just rants about trends that I have a strong dislike for. I'm not exactly shy on voicing my opinions about fashion and style, so I'm sorry if I happen to insult you in my posts.
Don't be afraid to comment on any of my posts, contact me through any of my social networking accounts, or simply just drop me an e-mail. I would be happy to reply to you as soon as I can.
Stylishly yours,
Hannah .x.