When a new season rolls around I try my utmost to embrace most of the upcoming trends, however due to my incredibly particular taste I don't welcome change with open arms as much as I should. Then again, here I am on my eleventh day in a completely new city, surrounded by a language that I am not one bit fluent in, and having a daily routine that is far from my usual college life. yet I love it. Fashion I guess is a little like that. Sometimes you have to just throw yourself into a trend that is far from your usual attire and just go for it. The colour might clash with your hair, the shape might swamp your figure, or the style might look absurd on you, but you can't be certain as it might end up suiting you better than anything else you previously owned. I've always been a hard believer in the phrase "You don't know unless you go". Which basically translates into; you cannot make a decision or give an opinion on something if you haven't tried, tasted or experienced first hand.

This summer is a bit like that for me, as you already know from my previous posts, because the clothing that is flooding the high-street stores for the upcoming summer months don't exactly consist of items that adhere to my usual bold patterned, brightly coloured wardrobe. This season is all about the colour cream. It wouldn't exactly be my favourite colour for the sunshine filled months ahead, but luckily enough I do have a massive weak spot for cream especially when it's lace. Whether you stroll into H&M, run through Primark or glance into the window of Zara, I can guarantee that you'll see more than one item of clothing in the shade of cream. Whether you're going for a stroll in the sun, travelling the world with a loved one, lazying around on the beach, or simply just spending the day sipping coffee in your local café, whatever it is this trend is something you can pull off easily. I don't want to ramble on too much about how you should wear this trend, or what colours you should wear it with, or where to buy a cream piece of clothing, because personally I think cream goes with practically any colour, lace can be worn both day and night, and this season you can get an item of clothing in cream in almost every shape, size and shop. So Instead I'm going to give you my top five favourite items of clothing that look exquisite in cream lace…
A little cream lace dress is a must have for this summer…

I think every girl should have a cream crochet top in their wardrobe, regardless of the season…

When summer comes, my 1950's side comes out so I'm currently in love with high-waisted cream shorts…

Last summer it was all about colourful kimonos, now it's lace, lace, lace…

It might not be everyones cup of tea, but every time I see a girl wearing a cream coordinate set I just love it…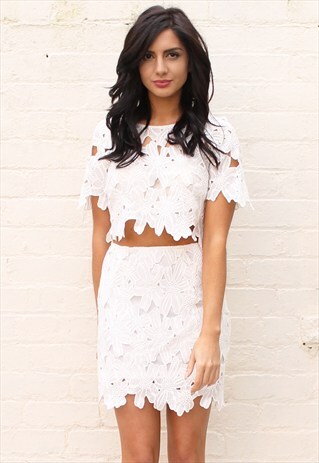 Just go for it this summer, be brave with your wardrobe choices, embrace the upcoming trends, because as  I always say 'Take a chance. You won't know unless you go'
Stylishly yours,
Hannah.x.