When I was thinking about this weeks post, I had absolutely no idea what to write about. I fished around for ideas online and asked a few friends, but I couldn't seem to settle on one. Eventually I interrogated my boyfriend for advice (who knew guys could be so helpful when it comes to fashion blogging?) and he said "Why not do it on handbags?" Typical me, shot the idea down straight away, but the more I thought about the more I actually quite liked the idea.
Ever since I was a child, I've always loved accessories, whether it's statement jewellery, killer heels or a thick knit scarf. However nothing excites me more than a new handbag. What once started off as a simple purse around 2,000 years ago, has now evolved into something no girl can leave the house without. If your a guy reading this you probably laughed at that sentence because you thought "how could a girl not be able to leave the house without a stupid bag?" What you don't realise is that a girls handbag holds everything, from make-up to a day planner, or from secret snacks to her phone, it's the key to every woman's success (it even doubles as a weapon if needs be).


A girls handbag, is more lethal than you may think…
Even though it may sound like such a simple task, it's actually one of the hardest "style struggles" a girl will ever go through…purchasing a handbag. There just seems to be so many styles, fabrics, colours, shapes, sizes and even brands out there when it comes to bags, so it's never as easy as it should be. When I came back from my holidays about a month ago, I noticed that the bag I used absolutely everywhere, was starting to get a bit murky and worn-out looking, so I had to force myself to start looking around for a new "everyday" bag. I rummaged through the rails of TK Maxx, and didn't find a thing, I scoured the pages of online fashion retailers, without coming across one I liked, and was nearly about to give up. Until I was in town on my lonesome one day, aimlessly strolling through the few high-street shops Waterford city has, and came across an absolute beauty of a satchel in River Island (what a surprise!) I stared at it for a good few minutes, felt around it, and even threw it over my shoulder  to see whether it'd suit me or not, I was still unsure so I decided to go home and get my Mom's opinion (Mammy always seems to know best) which didn't take long, so I bought it off their website straight away. Now, as I write this in the college library, it's sitting alongside me being as beautiful as it should be. Since most of my winter wardrobe this year is either Burgundy, Navy, or Bottle-Green, I thought of getting the bag in a tan to match, but when I saw the Green version I couldn't resist. It even doubles as a backpack, which is one trend I've always thought was adorable.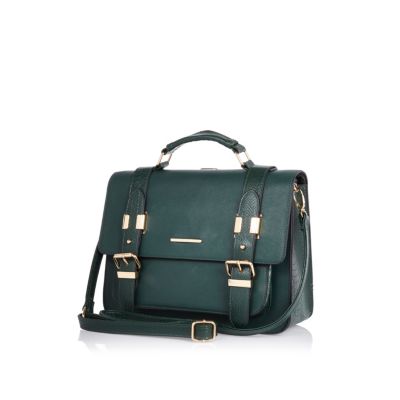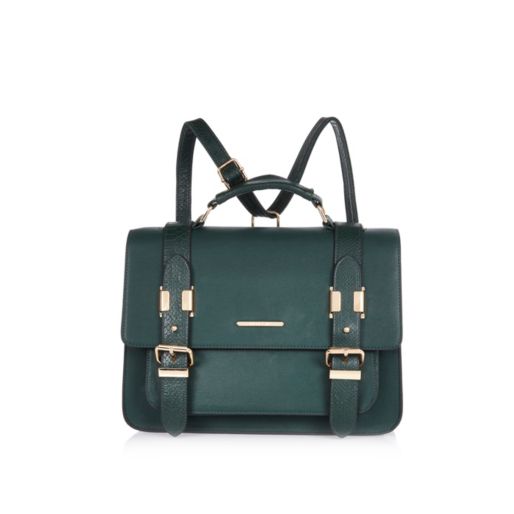 I must admit that I've always had a weakness for satchels because I much prefer throwing a bag over my shoulder, rather than carrying it in the crook of my arm, and they always finish off an outfit with a little bit of "quirk". However, since I now have my practical, "everyday" bag, I'm now constantly searching for an affordable statement bag. I know that it's something I'll probably never find but I can't help but envy the girls that have one. Whether it's a traditional Lulu Guinness lips clutch, one of the many adorable Charlotte Olympia book clutches, a Moschino "Maccy D's" quilted bag, an Anya Hindmarch cereal box, or even a Chanel milk carton or shopping basket (which costs around €9,000, might I add!), the possibilities are endless…if you can afford them.
If you're anything like me, I bet your drooling all over your computer/tablet/phone screen right now, envying every woman in the above photos that have their hands on these uniquely quirky bags, but maybe one day you'll be able to afford one (or lucky enough to be given one) without any second thoughts. Which is what I'm hoping for one day, then again knowing me I'd invest in a Cambridge Satchel before I brave splurging on an adorable, childish clutch.
One bag trend that I love though is perspex clutches. I could never find one on the high street at an affordable price, but I know Charlotte Olympia created a few for her range earlier on in the year. I just love the idea of getting a clear clutch bag, and being able to change the pattern and colour of it by just switching between patterned pockets. It's certainly an unusual trend and not one girls should use on drunken nights out, but personally I think if I had one I'd wear it with just about everything. However I'm still unsure on whether I'd play around with the different patterned purses, or brave the sheer trend like the majority of fashionable faces.
I know this weeks post was quite random, and unlike my previous posts, but as George Barnard Shaw once said; "Progress is impossible without change, and those who cannot change their minds cannot change anything." I just hope you guys enjoyed my little change, because if I'm going to try post weekly, I may as well do things a little differently.
Stylishly yours,
  Hannah.x.