If your wardrobe doesn't look like a bag of pick 'n' mix this summer, then you're doing it all wrong. Now I'm not saying you should cover yourself in candy like Katy Perry did in her 'California Girls' music video, I'm merely saying that if you don't have atleast one candy floss coloured piece to clash with a bold monochrome item of clothing then you're going to feel a teenie bit left out this season.
Inspired by the licorice allsort trend yet?
I wrote a post back in September with a run down of my favourite S/S 2014 RTW collections, which contained various images of the trends that are now being embraced by our local high street. So this time, I'm going to talk about how celebrities and the stylish kids on the street have interpreted these trends so you can get some inspiration and follow in their high heeled footsteps.
Pretty in Pastel
Sorbet shades of mint green, soft raspberry, lemon, and bubblegum turquoise are colours that you'll be sick of seeing by the time next winter comes around. If you go into River Island, you can't miss their endless array of candy coloured pieces from soft leather jackets, skinny jeans, pencil skirts, tailored shorts and even loosely fitted blazers. They're the kind of colours that you've probably only ever seen them on baby blankets, but soon you'll be unable to go anywhere without seeing a cotton candy coloured fabric. This trend is perfect for the sunny weather as it's bright, girly and you can't help but smile when you see someone wearing it. From Kylie Minogue in her lemon skinny jeans, to Mary-Kate Olsen in her loosely fitted powder blue blazer, everyone is falling in love with this trend, so why can't you?


Skinny Jeans



Pencil Skirts





Loosely fitted Blazers





Short Shorts





Party Dresses


Even guys can get away with the trend…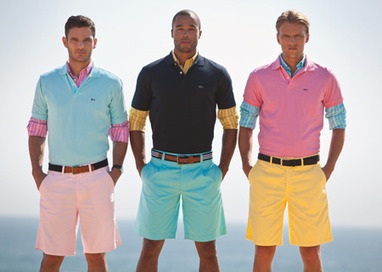 Blackjacks
I know that everyone says that black is the best colour to wear when it comes to fashion, however this season the only way to wear it is if you clash all your black items with a crisp, clean shade of white. Therefore if you don't embrace the licorice, Cruella De Vil inspired, look then you may as well just become a hermit for the summer. Monochrome is one of the easiest trends to pull off because it doesn't matter what size you are, what hair colour you have or even what age you are, black and white always works (if it's done right). When most people think of Monochrome, they think of the black suit, white shirt combination, but thankfully shops like Topshop, River Island, Debenhams and many more, have offered up an enormous array of monochrome clothing choices that can't not entice you to impulse buy. Whether you start subtly with a monochrome pair of shorts, or copy Miley Cyrus and go all out in a stunning figure hugging jumpsuit, this trend can be easily adapted into your summer wardrobe.
Printed pants


Jumpsuits


Short shorts
Maxi dresses


Bodycon
There's nobody that can't work monochrome…


I hope that this post has helped you get an idea of what trends will be facing you when you hit the high street. All I'm going to say is don't be afraid to take a chance with the licorice allsort inspired trend, just have fun with with it all. Whether you wear subtle bursts of pastel, or mix monochrome with bright neon accessories, just go for it. Nothing is impossible to wear if you put your own complimenting twist on it.
Stylishly yours,
   Hannah.x.